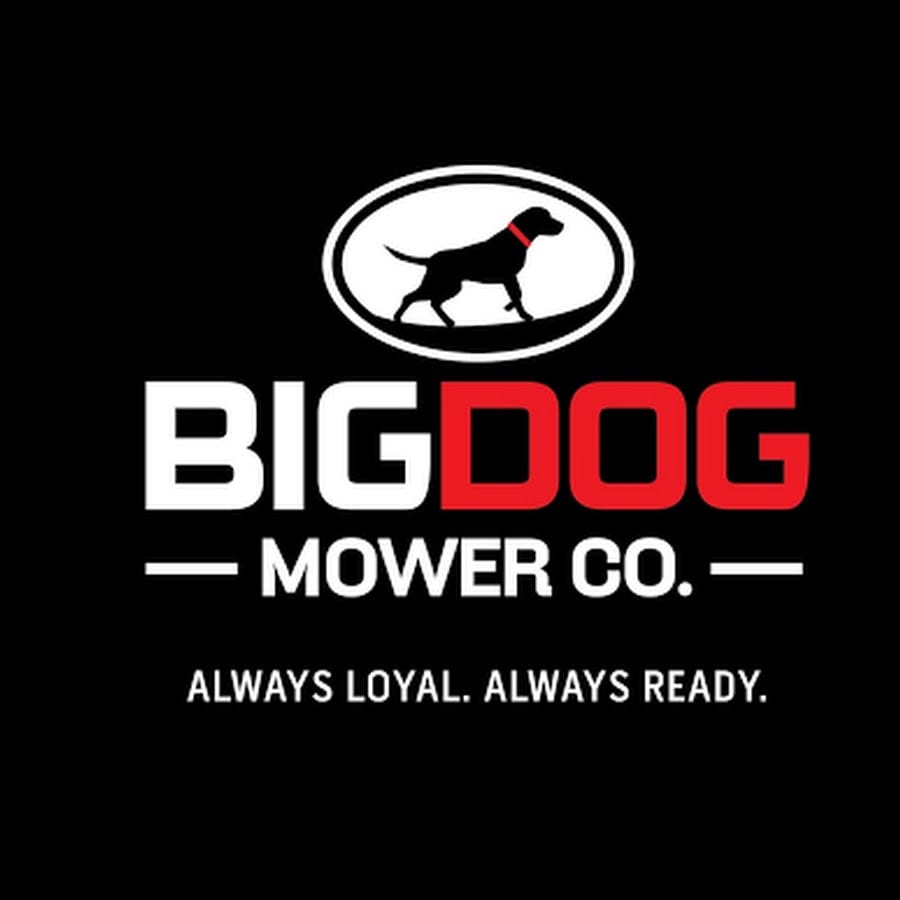 Enjoying the backyard is about as American as apple pie, and lawn mowers help make this possible. Don't you just love the smell and look of fresh cut grass?
At Feldmann Power,  we don't just sell mowers, we sell memories — those moments you'll share with family, just living and enjoying your time together in the lawn you mastered. When we started looking for mowers to carry for our customers BigDog mowers stood apart from the crowd. Embodying the best of small-town values, BigDog Mowers shares our belief that a job worth doing is worth doing right. The dedicated team at BigDog hand-builds every mower in their Kansas City, Mo shop.
Come on in and see the BigDog difference in person. Test drive the available options and see how a BigDog can help you craft a yard where memories will be made.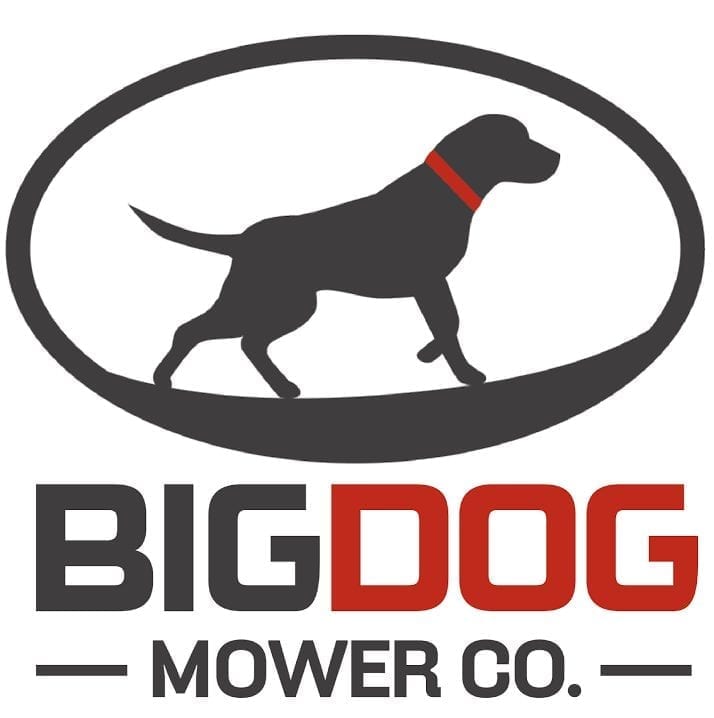 Hand-built in Kansas
BigDog's dedicated team hand-builds each and every mower to demonstrate our shared belief that a job worth doing is worth doing right.
Industry Leading Warranty
Feldmann Power & the BigDog® team believes in standing by our work, offering the hands-down best warranty in the entire industry; seven full years of quality.
Giving Back to Man's Best Friend
In 2017, BigDog® donated $5,000 and a Alpha 42″ mower to 6 non-profit dog organizations in our appreciation for their commitment to our man's best friends
BigDog Heroes
Feldmann Power & the BigDog® team wants to show our support by offering 10% off current promo prices on all our mowers for heroes — military, law enforcement, fire, and EMS.
Advantages of a Zero-Turn-Radius (ZTR) mower
A zero turn riding (ZTR) mower is a great mower for both personal or professional use. These mowers resembles a little bumper car with the engine located in the back. Many homeowners now opt for this mower model over conventional types of lawn mowers.
Check out just a few of the advantages a ZTR mower provides for today's homeowner.
Increased Maneuverability
With handles on both sides of the mower, you can operate the mower with ease. The rear wheels can move in whatever direction you choose,  giving you greater control as you navigate your way around shrubs, trees, and other obstacles. You can do 180 degrees, and 360 degree turns without any problems. The increased navigation control is also helpful when you have to mow in confined spaces.
Higher Efficiency
Various features of a zero-turn mower contribute to increased efficiency when you mow. BigDog models feature horsepower that ranges from 15 to 35 with an extremely high cutting speed. The greater cutting speed gives the BigDog zero-turn mower the capacity to work over vast areas quickly and efficiently. The mower has a long blade radius helping to cut more grass. BigDog mowers also feature decks ranging from 36 inches to 72 inches, especially convenient if you have a large lawn. These large decks enable you to get through the job quickly without being too tasked.
Increased Versatility
Optional attachments include sprayers, seed spreaders and even snowplows. BigDog models come with a kit that allows you to mulch your lawn as you cut. Ask the Feldmann Power team about the best accessories for your new BigDog mower.
Less Strenuous
Zero-turn mowers allow you to ride the mower as you mow. This makes lawn maintenance less strenuous compared to walk-behind mowers. The degree of physical exertion is significantly reduced with zero riders from BigDog Mowers. Muscle strain and fatigue is also less likely since you're not as exerted compared to the walk-behind mowers.
"I bought my first Big Dog zero turn mower back in July from Doug at Feldmann Power and I love it. I got a great deal, a great mower, and excellent service. I am now ready for my first service and they are coming to pick it up. That is great service."  Smart Choice Auto Sales (SmartChoiceAS)
"A place to get awesome mowers very strong very powerful"  donald Raymond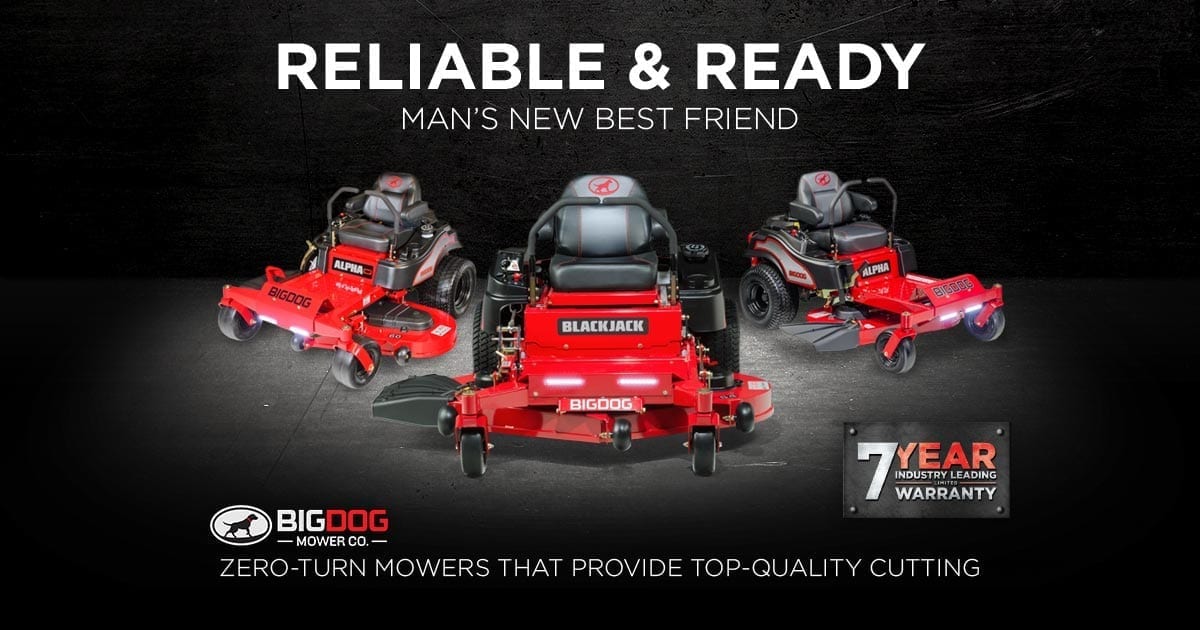 SEE THE BIGDOG
®

DIFFERENCE
Need More info on BigDog Mowers- EmaIl Us Today